The Middle Years Program, or MYP, is for students aged 11-16.  In the US, that translates to grades 6-10.  The MYP provides the framework of academic challenge with a focus on student-centered learning, critical thinking and international mindedness.  The Learner Profile highlights ten traits our students strive to be, including inquirers, reflective and open-minded.  Students are encouraged to embrace interdisciplenary learning because understanding the connections between content areas provides real-world relevance.
For information on the MYP including Global Contexts and sample student schedules click here: Middle Years Program Curriculum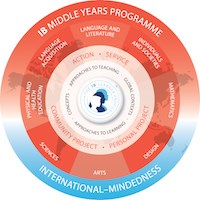 If you were unable to attend the MYP parent meeting on 10/3/18, the presentation is available.
Click here for the MYP General Regulations: MYP general regulations
Parents and students are required to read the Academic Honesty code, found in All About IB 2018-2019, and sign the JRT Academic Honesty contract.  Students received a copy of the contract in seminar the second week of school.
The Personal Project is the culminating project of the MYP and a compulsory component of the program. Students are introduced to the PP in the spring of MYP Year 4, work on the project over the summer, and write the reflective paper in the fall of MYP Year 5.  Check out some of the cool projects the Class of 2021 presented at the PP Showcase.  Parents, here is the presentation and the student guide from the PP meeting on 3/25.
Teachers prepared "tool kits" for students and parents as a resource to improve study skills and learning.  Click on the links for subject-specific tips and strategies.
Technology       Math      Science          History          Language B          Language A    Art            Physical Education